This Night Wounds Time

Dreamlover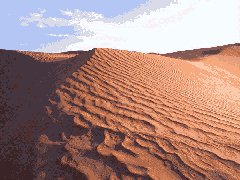 Tell her the earth doesn't spin
Anymore. That the waves won't visit
These shores. And the clocks and the tears
Are gone.
In the wake of change there's darkness and fire.

Give me a splinter from yesterday's words.
Make that simple dream and flight come true.
Or put me to sleep
To dream in your arms. I'll bury my face
My voice.

Let's visit those shores. Sit on the sand
Ten days apart and ghostly arms
Outstretched.

I'll send you a touch
To lift us away.
I came from the stars.
I dream.
I dream all day.


---
Thank you for visiting TNWT; your comments will be appreciated.
This page was last updated on September 1, 1996, Nicosia, Cyprus.
---
&copy 1996 Tefkros Symeonides

The sand dune is from a photograph of unknown origin.
The bird rider is from a painting by Moebius (Jean Giraud).